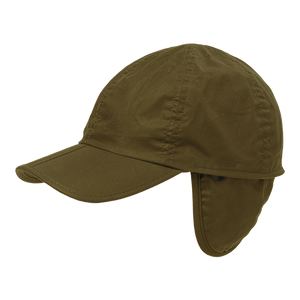 Baseball Cap with earflaps in waxed cotton - light and tightly woven cotton with wax finish, repels wind and water in the traditional way.
100% Cotton. Lining is 100% Polyester fleece. Six pieces, with earflaps. Foldable long curved peak. All Wigens hats are hand blocked and steamed for an enduring precision fit and comfort.
Enhanced for winter wear with signature Wigens earflaps lined with polar fleece. Wigens earflaps are one of a kind, with features that eliminate the usual problems with fold down flaps. The earflaps have a special connecting fabric that joins the flaps and hat together. When it folds down, the hat fits exactly the same as when the earflaps were inside the hat. The earflaps also boast an elastic trim that hugs the ear and keeps the wind out.
Color Olive(506) - 130022